Aurora - Replacement Discount
New functionality has been added to the PRODUCT CATEGORIES set up that allows clinics to configure
"Replacement Discounts".
This auto assigns a replacement discount when a sales document is flagged as a "Replacement."
Create a discount product in the Product Information.
In Config>Inventory>Product Categories,> select a product that you would apply a replacement discount.
In the 'Replacement Discount' field add the discount product and add a discount %.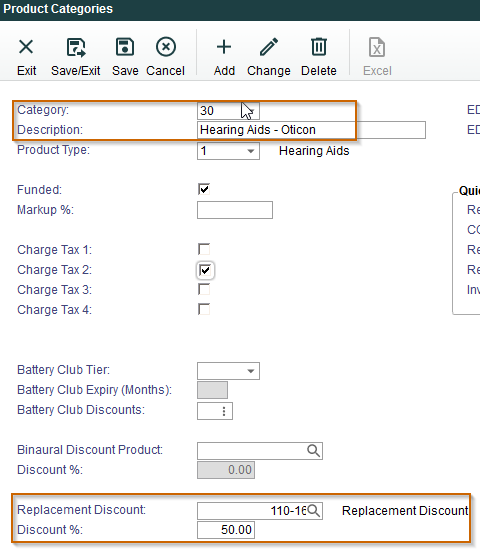 With Replacement checked, try the below in a private invoice or HSP claim.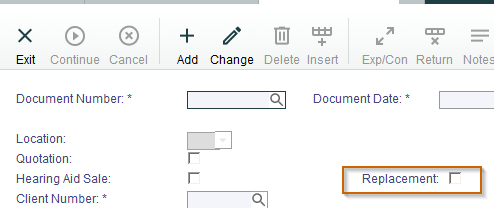 __ Add a single HA item to an invoice for a category that gets the replacement discount and verify it is added to the claim as an accessory.

__ Add multiple HA items to an invoice for a category that gets the replacement discount and verify it gets added to the claim as an accessory as a single line for the total discounts on the category.

__ Add a non HA item for a category that gets a replacement discount and verify that it does not get a discount line.

__ Add mixed invoice combinations and verify that it only gets the discount for HA items in the appropriate category.
Related Articles

Deleting or Archiving old HSP Claims

Archiving HSP Claims is a tool for housekeeping your data. It speeds up searches for Claims by allowing users to archive selected HSP Claims so they no longer appear in selection windows. Archiving means that these HSP Claims will no longer be ...

How to Archive or Delete HSP Claims & Quote Claims

A claim can only be archived. If it is unapproved and un-exported in DC it can be emptied then archived. If Claim Generation (B&M Updates) are set to be created as Quotes in Config>System>HSP Parameters they can be deleted. If they are unapproved & ...

HSP - 3FAHL Overview

3FAHLS readings will auto-fill in an HSP claim or quote claim if the audiogram has been entered into Aurora or if you have previously created an HSP Claim with certain HSP items and had 3FAHL values included eg a 600 or 800. If the 3FAHL information ...

B&M Reversals

Reverse B&M amounts – Start-Up Balances To credit a legacy (old) B&M Amount, if it was entered as a Start-Up Balance, you can just delete it from the Start-Up Balances in Config>Accounting>AR Start-Up Balances – consult with SH if unsure. Reverse B&M ...

Patient Inquiry - for Hearing Aid sales report incl. Competitive HAs

T obtain a list of all hearing aid sales, Go to: Reports & Inquiries>CRM & Marketing>Patient Inquiry In the filters options click on Sales History Selection, then check the boxes Use Sales History, Select HA Only and Detailed Hearing Aid Export. A ...