Forms - Edit a pdf to have field tags - requires client to have Adobe Pro
In Aurora>Config>Patient>Forms an editable PDF may be uploaded. To edit the PDF with the required field titles requires Adobe Pro.

Notes: we are not experts and cannot support you in using Adobe Pro, we offer this at face value.

Make a copy of the PDF and add something like "Editable" in the name somewhere
Open the new PDF and Select "Tools"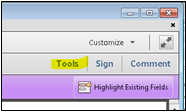 Once you've selected Tools, expand "Forms" and press "Edit"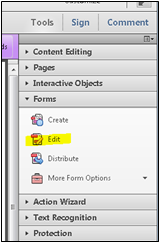 Once in edit mode, it may ask if you wish for it to auto-detect fields, this is typically a good thing, you can re-name, edit and remove any fields you dislike. The form should appear like this
You can right-click any fields to edit them
You can right-click anywhere in the document and it gives you a list of options you can add (Text Field, Check Box, Radio Button, etc.)
In this instance, I clicked on Properties>General and changed the Name to include the field tag.

Once you are satisfied with the fields, you need to select "Close from Editing"
Now you should save the PDF
Once you have saved, select the following:
Enable More Tools (includes form fill-in & save)…
Accept the warning and save the file with something like "Fillable" somewhere in the title
Now you can upload the file to the SH environment and link the fields with the proper data tags.

Related Articles

Field Labels (tags) for Patient Forms and Letters 6.14

Patient Letters and Forms can be created and pre-populated with patient and other data. Here are the field tags (field labels) available in Aurora. 3FAHL Left: <<3FAHL Left>> 3FAHL Right: <<3FAHL Right>> Clinic Name: <<Clinic Name>> Company ADP: ...

What's new in Aurora

What's new in Aurora Aurora 6.18 Aurora 6.17 Aurora 6.16 Aurora 6.15 Aurora 6.15: HSP Special Release Aurora 6.14 Aurora 6.13

User Defined Codes in Patient Information

On Patient Information>Additional Information, there are a number of available User Defined Fields available for filtering customers. You can name them in one place, and input "answers" to suit in another in Configure>System>Settings. These are ...

Fast-Track Invoices

Fast-Track Invoices are designed for a sale that requires less information than the traditional device sale. Designed to be a simple sale, Fast-Track Invoices cannot have funding sources or products that require a serial number. Fast-Track Invoices ...

Audiology Work Flow

Process Overview Roster the Specialist on (skip if not using Rosters) Add an Appointment in Schedule>Create Appointment: Add Clinical Notes and save. Add Fast Track Invoice for the hearing assessment. Is further action required? If no, set the ...