What is the process for switching transducer cables in Primus?
Connect the transducer with the original cable – ONLY this transducer – to the Primus unit.

In Primus, choose 'Tools' → 'Copy Transducer Data', and follow the on-screen instructions: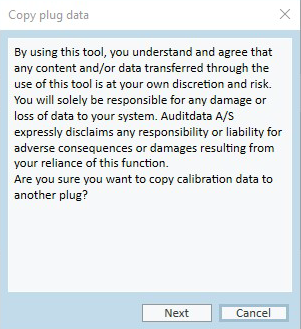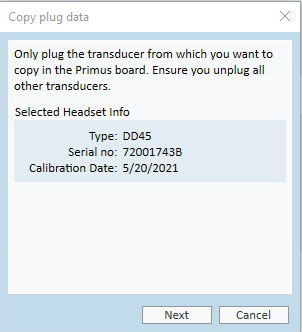 Press Next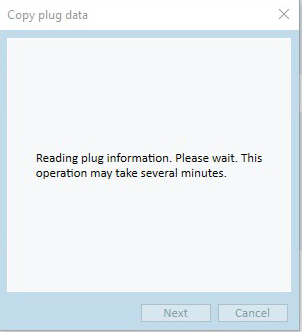 When 'Reading plug information..…' is complete, disconnect the original transducer and cable from Primus.

Exchange the cable to a new Primus transducer cable, and connect the transducer again: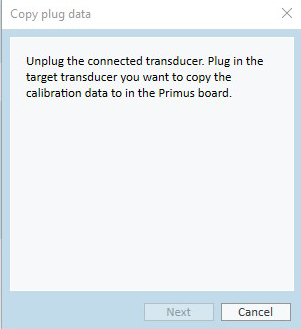 Click Next and finish the calibration data transfer.
The new cable has now been programmed with the calibration data from the original cable.

Related Articles

How to share Primus settings from cloud?

Auidtdata One is a cloud solution that, along with other functionality, allows you to share your Primus Settings Profile and Test Definitions from cloud. You need to obtain a Cloud license from Auditdata together with your login and password. The ...

How can I access support tools in Primus?

Using Help in Primus you can get access to How To Videos - Providing step by step guides to install, use and customise Primus settings. Training videos can also be found here User Manual and Instructions for Use documents - these can be accessed ...

Is it possible to share Primus settings over a network?

The customers can share their Primus settings from network with other PCs. To share the settings with other users, you need to create a Primus Settings Profile under the following name: NETWORK PROFILE. As most clients use Primus under NOAH, in ...

How to setup GDT in Primus?

Both Primus and your OMS system should work on the same workstation. 1. Open Primus and go to Tools - Settings - Common section. Enable GDT Interface and put in configuration details (please, see the screenshot for the example): 2. Open your OMS ...

Can I add a Stenger Test in Primus?

In Primus there is no dedicated Stenger test, however you may create it in the settings. Expected functionality: to play Pure Tone in both ears but with different loudness. Open Primus and go to Tools -> Test Definitions Open a Pure ...