Date Range Control - 'This date is outside of the allowable range'
When creating, accessing or editing a document and you get a message below


Check the following in Config > System > Date Range Control and update the date.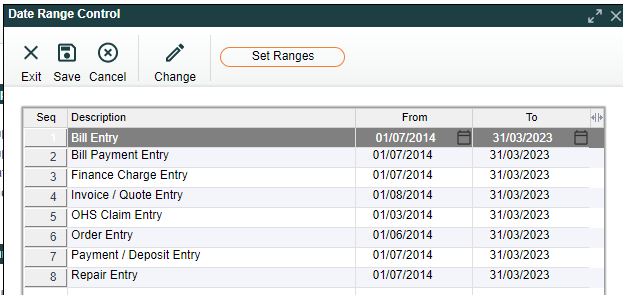 The DATE RANGE CONTROL is the hard stop on accounting-related postings outside of the specified dates.
The DATE RANGE ROLL OVER takes those specified dates (for example a one-month or three-month period) and flips it to the next period of the same length.
For example, if DATE RANGE CONTROL is 01/08/2022 – 31/08/2022 and you hit the ROLL OVER, it would automatically change the specified dates to 01/09/2022 – 31/09/2022. Rolling over the period by one month. So indicating that a function is to respect the ROLL OVER rule, will automatically roll the dates as described. You can have some functions roll over and some not roll over.
There is an APPLICATION USER option in the SECURITY PARAMETER that says ALLOW DATE RANGE OVERRIDE which says a user can do what they want essentially with dates regardless of the DATE RANGE CONTROL setting.