Whenever required, you can make quick adjustments to your Test Flow. However, note that all changes have to be published.

To modify a Test Flow, you need to access Auditdata Cloud > Screener > Administration

1. In the left-side Navigation Pane, select the Test Flows tab to display the list of available Test flows

2. Find the Test Flow you want to change

3. To start
editing
, click the icon
. To discard changes, employ

.


NOTE: if a flow is unpublished or contains any unpublished changes, an Alert (

) icon will be displayed.
4. The edit icon (

) will take you to the
Test Flow configuration page
where you can make all required changes. To start editing, click
Edit
.

5. The Flow will come into Edit mode with a number of new setup options appearing:

Edit test flow: use it to change the flow's name, screensaver and margins

Discard any changes that should not be in the published flow

If the flow is finalized, you can use the Publish option

The Add page setting can only be used if a flow contains less than 8 pages

You can also modify ( ), delete ( ) or change the order ( ) of the Test Flow pages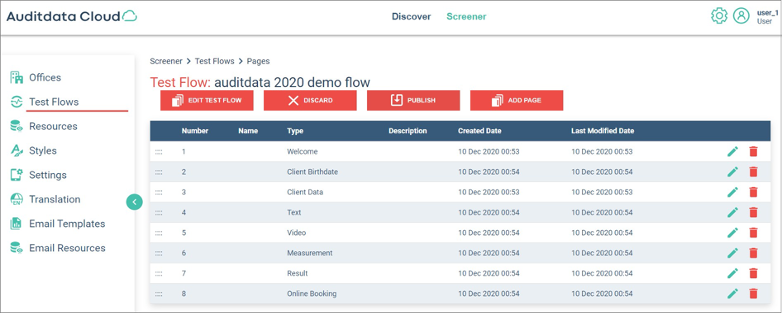 6. Click
Edit
(
) to be able to change the page settings. In the
Edit window
that opens you can modify:
The Name of the page

Page Description

The background image

Page text or header text

Button captions for pages that have buttons

Add or replace a video file for Video pages

Page content margins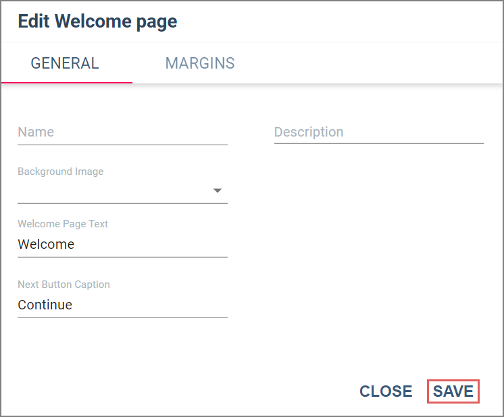 7. To be able to see your updates, open the Listo app on your iPad
An Alert notification will show that the changes have been made
Tap the Alert icon to download the update

The update will contain all published changes to existing Test Flows as well as any new Test Flows that have been published in the Auditdata Cloud.