How can I access support tools in Primus?
Using Help in Primus you can get access to

How To Videos - Providing step by step guides to install, use and customise Primus settings. Training videos can also be found here

User Manual and Instructions for Use documents - these can be accessed using the F1 function.

What is new document with the latest features implemented in Primus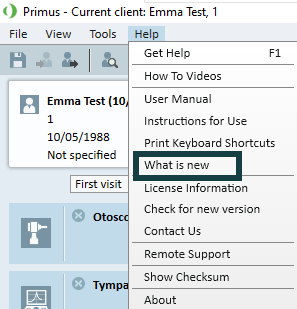 Remote Support to download and install TeamViewer - check with your organisations IT support desk to ensure that Teamviewer is allowed for use.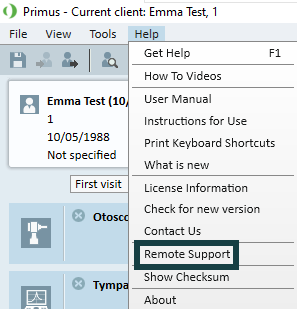 About where you can check the software and firmware version of Primus
Related Articles

Is it possible to share Primus settings over a network?

The customers can share their Primus settings from network with other PCs. To share the settings with other users, you need to create a Primus Settings Profile under the following name: NETWORK PROFILE. As most clients use Primus under NOAH, in ...

How to share Primus settings from cloud?

Auidtdata One is a cloud solution that, along with other functionality, allows you to share your Primus Settings Profile and Test Definitions from cloud. You need to obtain a Cloud license from Auditdata together with your login and password. The ...

What is the process for switching transducer cables in Primus?

Connect the transducer with the original cable – ONLY this transducer – to the Primus unit. In Primus, choose 'Tools' → 'Copy Transducer Data', and follow the on-screen instructions: Press Next Press Next When 'Reading plug information..…' is ...

Hardware error displayed in Primus

1. Run hardware diagnostic test Enable Hardware Diagnostic Test in Tools > Settings > General > Common Start the test under Tools > Hardware Diagnostic Test Select the device (Measurement or Hearing Instrument), all needed parameters, and ...

How to setup GDT in Primus?

Both Primus and your OMS system should work on the same workstation. 1. Open Primus and go to Tools - Settings - Common section. Enable GDT Interface and put in configuration details (please, see the screenshot for the example): 2. Open your OMS ...